1MindBodyFitness
About Us
1MindBodyFitness implements Kung Fu, Tai Chi, and Qigong to connect and positively influence the body's physical responses.
Start Your Empowering Journey: Whether you're new to these practices or seeking to enhance your coaching skills.
Founded in 1990 as the Int Kim-Loong Wushu Centre – IKLWCentre, it has since re-branded to 1MindBodyFitness and caters both locally and abroad.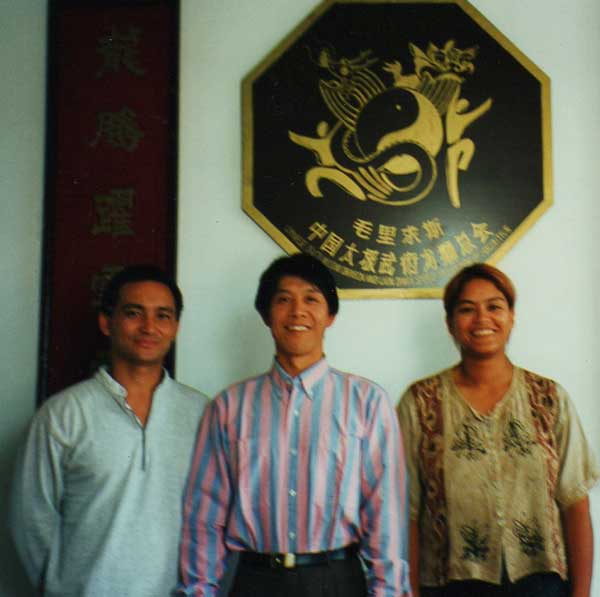 Our Origins
1MindBodyFitness implements Kung Fu, Tai Chi, and Qigong to connect and positively influence the body's physical responses. Founded in 1990, the International Kim-Loong Wushu Centre (IKLWC) has been providing quality Martial Arts training and Chinese Medicine treatment. Founded by husband and wife team Jeff and Amanda Lan; later to be joined by son Jefferson Lan and daughter Anahita Lan. Over the years assisting 1000s of students and patients, through the integration of the science of Chinese Medicine into the ancient authentic classical knowledge systems of the Kung Fu Teachings. Offering a variety of styles such as Shaolin, Tai Chi, Wing Chun, Qigong, Sanda. Working with international organizations to assist locals to international standards. The start of a journey of growth, collaboration, and development; with on-the-ground trial and error. Collaborative assistance from nationally and internationally associated and accredited Chinese medicine as well as martial art practitioners and institutions; allowed the navigation of regulatory adherence and protocols. Experience and time spent actively involved within community projects and training amplified the need for development locally.  Topics dealt with include treatment, diet, exercise, self-defense, meditation, coping skills for modern-day ailments, as well as lifestyle adjustment.
Our mission
To guide clients on a profound journey of self-discovery, wellness, and empowerment. By delivering transformative experiences that preserve life's essence, combining the elegance of Kung Fu, the tranquillity of Qigong, and the mindfulness of Tai Chi. Through our unique blend, we aspire to nurture life-preservation well-being, to enable a harmonious and balanced life.
Our Vision
Transform Lives Globally: At 1MindBodyFitness, we embrace our legacy as pioneers since 1990, evolving from the Int Kim-Loong Wushu Centre – IKLWCentre. A beacon of holistic well-being, harmonizing ancient wisdom and modern needs. Is to inspire individuals locally and globally to achieve optimal vitality, balance, and harmony through the integration of Chinese Medicine, Kung Fu, Qigong, and Tai Chi.
Co-Founder, Coach and TCM Doctor
Dr. Jeff Lan
Dr. Jeff Lan; also holds the title"master" (shīfu 師傅/师傅) or sīfu; is qualified as a registered acupuncture practitioner & doctor of Chinese medicine. Studied Chinese medicine and mentored by renowned martial arts and Chinese medicine teacher and practitioner, Dr. Lin Feng-Chao. Both playing key roles in legitimizing Chinese Medicine and Acupuncture in South Africa. Furthered his studies with the Beijing Herbal Medicine and Acupuncture Institute, Beijing with honors. He undertakes a continuous study to this day. Excels in martial arts to balance the health perspective, certified 9th Dan World Organisations of Wushu KungFu Masters & honorary 6th dan Health Qigong technical 4th degree certified Instructor, Beijing, China. This assists with his ability to treat his patient on a deeper understanding and continue to heal once completing treatment sessions with him.  Teaching students authentic, classical lineage-based knowledge, he shared these "Secret Chinese Treasures" with an appreciative audience over many years. Dr./Shirfu Jeff Lan is a practitioner of Authentic ancient knowledge systems of Chinese Martial Arts and Medicine and runs workshops catering to as wide an audience as possible. Topics are broad-spectrum health and lifestyle management and deal with topics which include treatment, diet, exercise, meditation, and coping skills for modern-day ailments
Co-Founder Coach and Creative
Amanda Lan
Co-founder of  International Kim-Loong Wushu Centre (IKLWC); a textile designer by profession heads up her own business as a Creative Entrepreneur specializing in product and services as well as strategic implementation and visionary business development. Amanda Lan was born into sport, and trained in judo with her father; excelling as a WP sprint, javelin, and discus athlete at a young age. Trained ballet but found martial arts as a fighter more appealing. Discovered Kung Fu at the age of 18 years and have never looked back since. Her training roots lay within the ancient authentic classical knowledge systems of Kung Fu; such as Shaolin, Tai Chi, and Wing Chun. But her passion was honed within the studies of Qigong, Tiger, Sanda, Chinese Dance, and Lion, Dragon Dance Drumming.  Her specialty is Health Qigong, Yuan Qi (QE Yoga) Woman Specific Qigong, and Kung Fu Stretching. She has lived the dream of training in China and Mauritius to improve her knowledge and has earned her internationally certified coach earning merit as a Health Qigong Technical Degree Certified Instructor 4th Dan and 7th Dan Shaolin and Sanda. She sits on the SA Health Qigong Association as vice president, heads up liaison, and international developments and training with International Health Qigong Federation IHQF; and is accredited to teach, adjudicate and merit students.
In -Person and Online Courses and Events
1MindBodyFitness Health is a holistic wellness destination, offering a transformative fusion of ancient practices, Chinese Medicine, Kung Fu, Qigong, & Tai Chi.
Publications
Developed and researched Integrated Ancient Chinese Healing Art over 20 years of research. Published Tui Na & De Da book & DVD along with a 2nd edition published later. Preserving ancient authentic Shaolin martial arts knowledge a book and DVD as published on the Tan Tui also referred to as the Twelve Spring Legs system inherited from his dragon style master. QE bracelet the brainchild of Dr. Jeff Lan* who spent years in research to develop a concept that encompasses the principles of Chinese medicine, philosophy, and exercise that does not advocate "miracle health" but rather allows the process of Inspiration toward health. Implementing his experiences achieved over the years while treating and training to effect this concept feng shui for the body & mind – Qi Equilibrium is born. Capturing the classical knowledge and unique treasures is one of few remaining classical teachers, Dr. Jeff Lan will ensure that this heritage is not lost to modernization and ignorance.
Active and Powerful Choices to Gain or Maintain an Optimal Level of Overall Health and Longevity.
Tai Chi & Qigong Self Care
Daoist Martial Art  & Medicine Evolved